Expromet selected for UK Trade Delegation to Seattle
Boeing Supplier Showcase confirms Expromet's leading role in the aerospace industry 
Expromet Technologies Group was privileged to be selected as one of 35 UK manufacturing firms to join a UK Government Trade Delegation in Washington last week. Industry Minister Nusrat Ghani signed a new Memorandum of Understanding to boost trade and investment with the US state, focussing on aerospace as a priority sector. 
Supporting the world-leading aerospace industry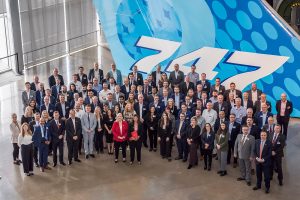 Expromet was selected by Boeing to meet their procurement and supply chain teams at the 2023 Boeing Supplier Showcase. This two-day event showcased the best of the UK's world-leading aerospace industry as it continues to drive innovation through new technology, research and design. 
Expromet Group Business Development Manager Rob Williams joined the delegation and says the group has become a trusted supplier to the aerospace industry, with an ongoing commitment to working with the aerospace sector.  
"Expromet group companies Investacast, Haworth Castings and Metaltech Precision have significant experience in manufacturing for the aerospace industry, and I am delighted to see their expertise recognised as part of this showcase by Boeing." 
Strengthening Expromet's international supply chain
Boeing, based in Washington State, has spent over £12 billion in the UK supply chain since 2015. Maria Laine, President of Boeing in the UK, Ireland and Nordic region said: 
"We are immensely proud of our long-standing relationship with the UK. Working closely with the UK Government … and other key partners, we remain committed to developing and expanding the UK supply chain and creating opportunities for collaboration across Boeing's global programmes." 
Minister for Industry and Economic Security Nusrat Ghani was also "delighted to join Boeing and our handpicked group of innovative UK companies to discuss how Government and industry can work together."  
In such good company, US Sales Manager Rick Washnock was proud to showcase the world-class engineering solutions available from Expromet Technologies Group.  
"Expromet Group companies support the aerospace sector in a number of key areas, supplying machined-from-solid, forged and cast components across the world. We were pleased to be recognised by Boeing and the UK government as a key supplier and look forward to doing more business with the US."  
For more information on how Expromet group companies manufacture and supply components for the aerospace industry contact us at + 44 (0) 1271 866200 or email enquiry@expromet.com.