Sharing our world-class engineering and supply chain solutions  for offshore technology components 
Expromet Technologies Group is excited to be exhibiting at the Offshore Technology Conference (OTC) from 1 – 4 MAY 2023 in Houston, Texas.
Expromet group companies supply precision machined and cast components for performance critical energy applications, including the offshore sector. At OTC we will be sharing our knowledge and expertise with the industry and developing relationships with partners in the offshore technology sector. 
Expromet expertise in offshore technology components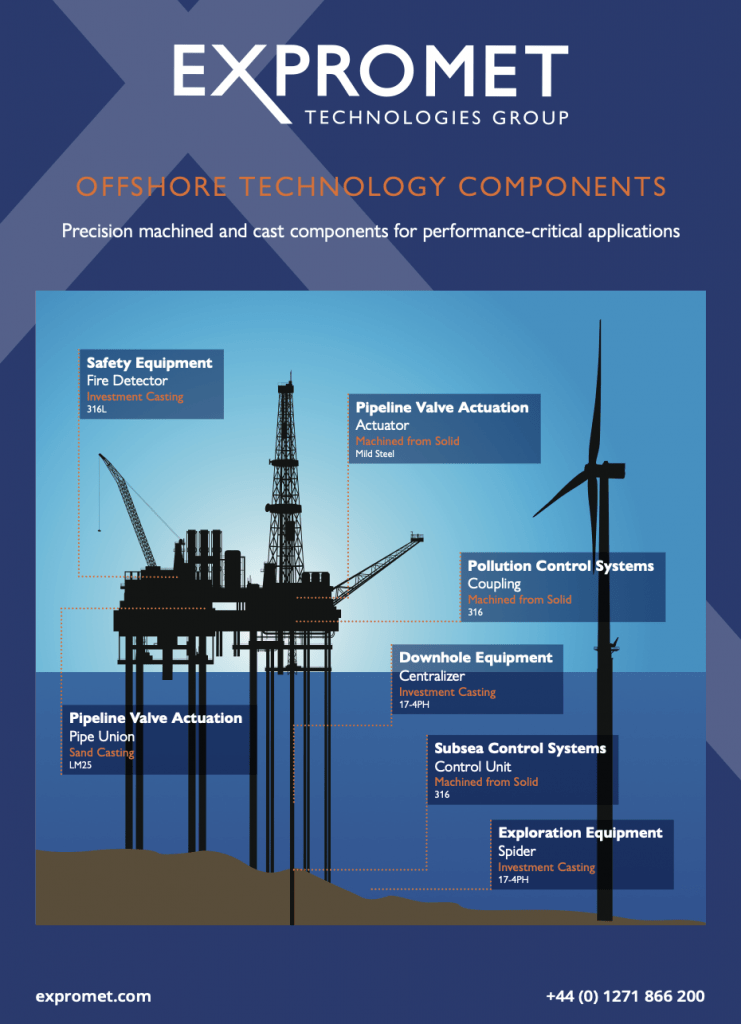 Expromet group companies have significant expertise in producing quality, fully-machined, finished and tested components for high-performance energy applications, offering an economical and versatile choice for this demanding sector.  
Haworth Castings, Investacast and Metaltech Precision manufacture components such as high integrity castings used in pipeline valve actuation systems, fire detection equipment for safety-critical  applications, and subsea control systems for offshore exploration and production.  
We provide expert support and guidance throughout, including advising on design for manufacture, and helping you choose the best manufacturing process for your application – this includes sand casting, investment casting and machining from solid.
Renewable energy commitment
Building on its experience supplying performance-critical components to the oil and gas industry, Expromet is committed to supporting renewable energy initiatives to help develop sustainable energy solutions. 
The group is investing in schemes to promote green energy and has recently participated in the Offshore Wind Growth Partnership WEST programme, which supports companies to develop and commercialise their offerings to help strengthen the UK Offshore wind sector.  
Towards a sustainable manufacturing future
Expromet Technologies Group takes its commitment the environment very seriously, with each company investing to reduce its impact on the environment. Green manufacturing initiatives across the group include generating electricity from our 600kw solar installation and heating our premises using biomass heaters, as well as using lean manufacturing principles and recycling of materials to strictly limit waste. 
Join us at the Offshore Technology Conference
We look forward to welcoming you to Booth 2176 at the NRG Park in Houston where we will be showcasing our capabilities in traditional energy applications, as well as applications in the developing renewable energy sector. 
To find out more about how Expromet companies can support you, contact us on + 44 (0) 1271 866200 or email enquiry@expromet.com.