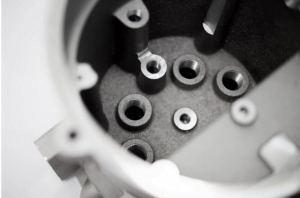 Expromet Technologies Group has been featured in the Editors Choice section of the Process Engineering, Control & Manufacturing magazine (PECM). The article titled, 'Design for Manufacture' discusses how Expromet helps you design parts by reducing production costs without compromising on quality.
You can read our contribution to the article below, or click here to view the article in the online version of the PECM magazine.
_____________________________________________________________________
DESIGN FOR MANUFACTURE

How Expromet Technologies Group helps you design parts for cost-effective production
Design for Manufacture (DFM) is the process of designing parts or components for ease of manufacturing, with the aim of reducing production costs without compromising on quality. By optimising your product design for the most appropriate manufacturing process, manufacturing experts can deliver high-performance parts at the best price.
As a leading group of advanced precision casting and machining businesses, Expromet Technologies Group has the expertise to help you design parts that meet your application requirements using the most economical means of production.
EXPROMET HELPS YOU DESIGN FOR MANUFACTURE
Product design will largely determine the manufacturing cost of any product and, if products are designed from the outset with ease and cost of manufacture in mind, the benefits are clear.Expromet group companies work closely with their customers at the early design phase to share the expert knowledge acquired as market leaders in their respective fields. Drawing upon UK manufacturing capabilities and a trusted global supply chain, Haworth Castings, Investacast and Metaltech Precision assess design considerations to help customers make products that are optimal for their end use whilst minimising production costs.
Expromet Technologies Group can help customers design effectively for manufacture by:
Identifying appropriate materials for specific manufacturing processes

Refining the shape and geometry of products to improve manufacturability and minimise defects

Eliminating waste or inefficiencies in production

Exploring the potential to combine multiple components into a single part

Finding opportunities for lightweighting where appropriate

Considering options that reduce lead time
Solutions include UK-manufactured investment, sand and gravity die castings, precision CNC-machined components and fabrications as well as castings, forgings and a wide range of other manufactured components sourced from our trusted global supply network.
MANUFACTURING EXISTING PRODUCTS MORE EFFICIENTLY
As experts in their fields of investment casting, sand casting and precision engineering, Group companies can also help customers convert legacy parts to more economical manufacturing processes. By taking a fresh look at the most appropriate method of production it is possible to reduce costs and increase  profit margins.
A typical example is parts designed as machined from solid, but where a casting is sufficient to meet the application requirements. By exploiting the Group's understanding of advanced precision casting and machining techniques, customers find that they can significantly reduce the cost of production in such cases.
REDUCE MANUFACTURING COSTS WITHOUT REDUCING PERFORMANCE
Expromet Technologies Group prides itself on finding solutions to complex engineering challenges for the most demanding industry sectors, including defence, aviation, marine, medical, energy and automotive sectors and other performance-critical industries. Engineering excellence, technological advancement and precision are at the core of the Group, so you know that there will be no compromise on quality.
EXPERTS IN DESIGN FOR MANUFACTURE
As a fully integrated, leading-edge supplier of engineered solutions the Group continues to build expertise in a range of manufacturing solutions, making it the ideal partner to support you with DFM.
To get in touch with Rob Williams or to discuss how Expromet Technologies Group can help you deliver high quality, end-to-end performance engineered solutions, please call + 44 (0) 1271 866200 or email enquiry@expromet.com.